BLOG POST: Why Relaxing is Not Bad For You (and 3 ways to do it)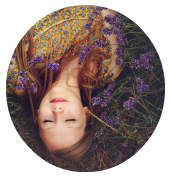 There was a time when I thought that "relax" was a bad word.
I used to think that relaxing was for sissies.
In fact, I was busy providing for my family and my home, even hosting a few of my children's schoolmates after school, while a voice inside me said, "I should go lie down."
I ignored that voice.
You know what I mean?
I would even get angry when my neighbor's kids would tell me that their mommy was resting and couldn't come to the phone. How dare she rest when there was so much to do!
I had to learn the hard way that relaxing isn't actually bad for you.
Back then when my kids were small, I was like a pinball ricocheting chaotically back and forth as I responded to my children's needs (including some serious developmental ones) in addition to my husband, the needs of the home, and my work. My Type-A personality led me to push harder without a sense of balance or inner peace, and I ended up in a crash-and-burn state with a chronic illness that affected my brain, spinal cord and optic nerve to the point where I was losing my vision.
I thought that relaxing was bad for you.
In the hospital I learned differently!
Since then, I've invested time, energy and resources to discover how to take better care of myself and help other women do the same.
You'd think that after pushing themselves hard in their various roles which could include mother, wife, home owner, employee or business owner, chauffeur, personal chef, janitor and domestic police officer… MORE women would relax MORE… By the way, if I missed something in this list, please let me know!
Yes, with this kind of schedule, you'd think that more women would relax more often.
When you take time out to relax, you avoid everything from general moodiness and frustration to outright burning out, which is what happened to me back in 2010.
So briefly, here are three ways you can relax -- and remember, it's not bad for you!
Alone. How do you like to feed your soul and recharge your batteries? Do you like to read, journal, take a walk out in nature, listen to music, do yoga? I encourage you to schedule time on your calendar to treat yourself -- at least once a week, or ideally several times a week or even each day at a time that makes sense to you. If you open up your calendar, you'll find everything scheduled there… so just add yourself to the list and start making yourself a priority!
With a friend. Your friends and acquaintances are probably also busy women who could benefit from taking time out to chill and take a break from the daily routine. Who comes to mind for you? Why not give them a call and suggest you do something fun and relaxing together? Chances are they will be grateful for your initiative and you'll end up having a great time.


With a group of like-minded women. Sometimes even better than relaxing alone or with a friend is to unwind with a group of women at a retreat or similar get-together designed for that purpose. This is ideal if you love being with other women, expanding your circles and meeting different people while doing activities that you enjoy. Going to a retreat gives you a chance to put yourself first, be at ease, and give your family the opportunity to appreciate you while you're away rejuvenating yourself. Taking time off like this allows you to fill yourself up and reconnect to yourself -- to become an even better version of yourself. This benefits your entire family when you return refreshed!
Which one of the above ways to relax speaks to you the most and why? Get clear... and then take action so you can relax, refresh, and rejuvenate in a way that works for you.